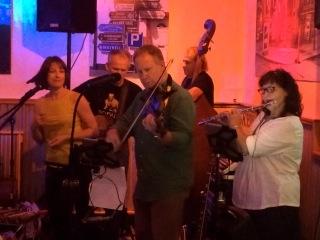 Hello!  I'm Steve Poff and I would like to introduce you to the VioStrap – a great new product to help you play your violin and viola.  At the age of 44 I decided to learn the violin.  The process was so painful that I thought, "Why isn't there a strap for the violin like there is for my guitar and banjo?"
The goal to create a strap that transferred stress and pressure in the neck, chin and shoulders to the back of the neck led to the development of a revolutionary insertion and abutement design that secured the strap without harming the instrument or its sound.  The solution was so simple that  it was shocking to discover it had never been tried!  It made practicing more comfortable and playing more controlled.  My success with  this development led to obtaining a U.S. Patent, #7236731 B2.
We found recently that we have had requests for customizing our VioStrap for other instruments, Ukulele and Mandolin, "The HOOK".  The custom made end piece is slim and non-marring, it fits nicely on the instrument sound hole.  Also, we have had Bodhran players purchase  "The Hook"  to support their drums.
Our company goal is to provide a quality product and excellent customer service.  We are proud to say that we are Made in the USA.  VioStrap is manufactured in the United States by VIOMARK, LLC.
Contact Us